Taylor's Story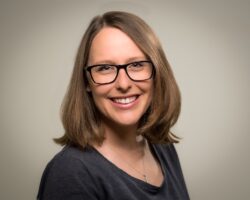 "When I decided to pursue a Graduate Certificate in Innovation Engineering, I was admittedly unsure of how it would fit into my life. With a family starting and a job with heavy travel, I didn't know how taking classes would fit into my schedule. I was drawn to this program based on content, but the flexibility of night and weekend classes. I have always been seen as someone with ideas, but wouldn't have considered myself entrepreneurial as those ideas never seemed organized or ready to bring to light. I hadn't known, until this course, that this was a skill to be developed. Everyone can become an innovator.
Once I started this program, I instantly found myself using the topics learned in my daily life. Innovation Engineering looks at how to most effectively generate ideas, communicate those ideas, and bring them to market. No matter your career, this program is going to benefit you from helping to better generate ideas to creating effective and more streamlined processes in operations and team dynamics. I use the skills learned in Innovation Engineering every day whether I am designing a marketing campaign, running a staff meeting, or looking at data sets to make decisions on how to maximize budgets. This class is more than inventing and selling something, it's learning how to maximize your potential on a team, in an organization, or individually to bring find new and unique ways to do your job and solve problems.
The faculty in Innovation Engineering took a good curriculum and made it extraordinary. From dedicating so much time to individualized feedback, being a part of the classwork, and being timely in responding to the online section of the class, I never felt a disconnect to the faculty and class as you often do in online programs. Innovation Engineering classes are taught in a non-traditional way where you learn the material ahead of time and during your 4 meetings throughout the semester, you do group work to develop the skills you've learned. I retained so much more from this style of education.
I am so grateful I had the opportunity to complete this Graduate Certificate, as it has been the most profound professional development experience I have had. I took this class with students from all different areas across campus. I saw this system work for Food Scientists, Engineers, International Policy students, and myself in Admissions."
– Taylor Ward