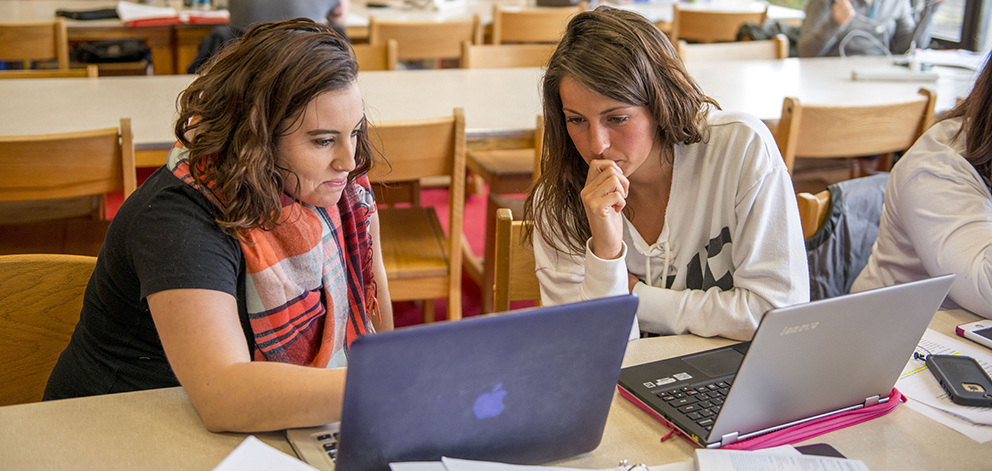 Learn more about academic resources available online. These resources include the Bookstore, Course Registration, and more.

Online Student Verification
University of Maine students enrolled in online or hybrid courses must access the campus learning management system (Brightspace) through a secure login provided with their MaineStreet account at the time of enrollment. Electronic course work must be submitted only through the LMS or through the University of Maine email system. Additional methods of authentication that may be used at the faculty's discretion are proctored exams; use of a plagiarism detection tool, and the use of personally identifiable information to verify identity (e.g. student ID, date of birth, address, etc.).

We're Here to Help!

Our advising center can answer all of your questions about UMaineOnline Orientation. Call us at 207.581.5858 or email us at umaineonline@maine.edu. Setup an appointment today – we look forward to speaking with you!

Add/Drop Tutorial
Learn how to add or drop a class after your initial semester as an admitted student.

Schedule Builder Tool
Beginning Monday, May 2, the Schedule Builder tool can be accessed via the Enrollment tab in the left hand navigation within the Student Center. The Schedule Builder tool will empower students to build course schedules for a term based on their availability and selected set of courses. Students will be able to review, compare, filter, and "favorite" schedules, as well as share them with their advisors, and more. Schedule Builder is designed to make the process of building and assessing potential schedules more efficient and comprehensive.
For more information including a brief video tutorial, visit the Student Center Resources page. If you have any further questions, please contact the IT Support Center.

Find textbooks, UMaine apparel, gifts, technology, and more from the University Bookstore.

Course Registration
During a student's first semester as an admitted student, they are asked to connect with their academic advisor (listed in their Graduate School Decision Letter)  to go over the courses being offered and the order in which they will be taking said courses. The academic advisor will then initiate the first-semester registration for the student.  After the first semester the student will register themselves through MaineStreet, UNLESS told otherwise by their department. 
To access a two-part video series on How to Register for Courses, visit the following video links
How to Register for Courses Part #1

Take note of the University of Maine's Academic Year Calendar for important dates to remember throughout the fall and spring semesters.
Academic Integrity and Plagiarism
Academic honesty is very important. It is dishonest to cheat on exams, to copy term papers, to submit papers written by another person, to fake experimental results, or to copy or reword parts of books or articles into your own papers without appropriately citing the source. Students committing or aiding in any of these violations may be given failing grades for an assignment or for an entire course, at the discretion of the instructor. In addition to any academic action taken by an instructor, these violations are also subject to action under the University of Maine Student Conduct Code.  The maximum possible sanction under the student conduct code is dismissal from the University.

The UMaine PrintFromAnywhere service enables students and staff to send print jobs to IT-supported copiers via a convenient web portal. The printers are located in the Fogler Library Info Commons, Hilltop Commons, York Commons, Wells Commons, and the Memorial Union 2nd floor. Instructions are available at umaine.edu/it/umaine-it-printfromanywhere.
---
Return to Technology Information
Learn more about financial resources available. Resources include the Financial Responsibility Statement, scholarships, online payment, and more.