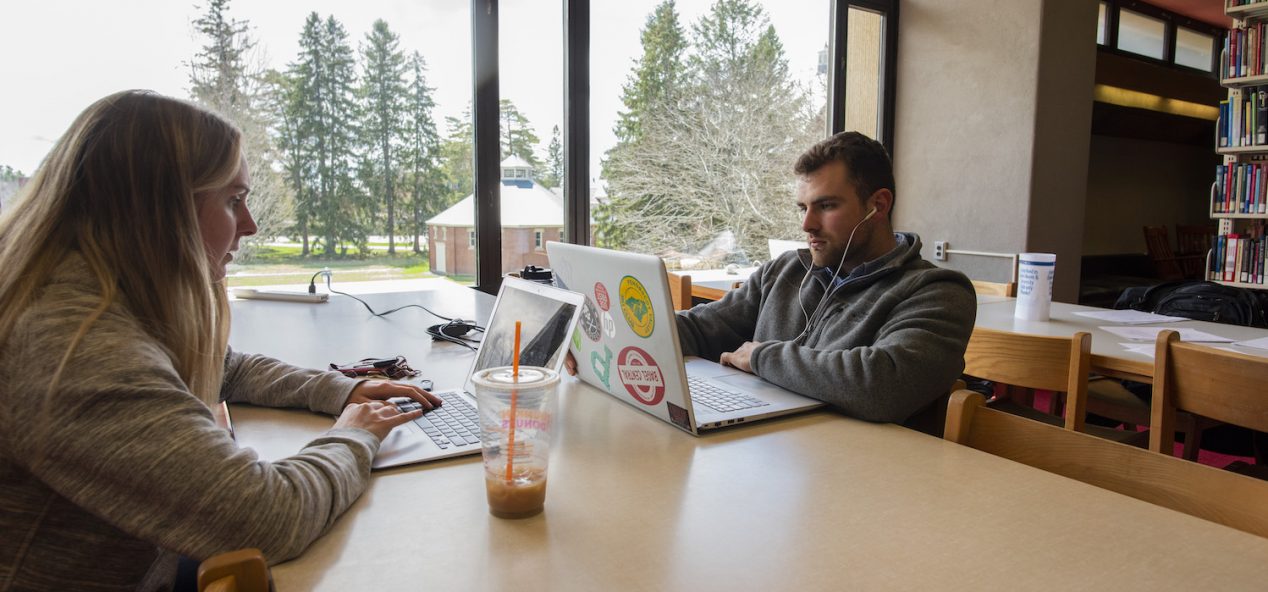 Learn about the available tools and Resources to be a successful student. Resources include time management and academic integrity tips, tutoring, library resources, accessibility services, and more.

Library Resources
UMaine: Raymond H. Fogler Library at the University of Maine is the largest research library in Maine, with a 150-year history supporting the faculty, students, and staff of the University as well as residents of the State of Maine.
Fogler Library is the regional depository for federal government publications and an official depository for Canadian federal and Maine state government publications. The library is also the designated State Research Library for Business, Science, and Technology, and is the only Patent and Trademark Resource Center in Maine
Click here to access Raymond H. Fogler Library resources. Click here to view tutorials for services by Raymond H. Fogler Library.
☸ UMaine Machias:  The Merrill Library Website is an active partner in the University of Maine Machias' mission, the Library is a center of discovery. The Library's collections and services enable learning, scholarship and knowledge creation. The Merrill Library Website is designed to provide the latest news and research tools available at Merrill Library and to deliver quickly and conveniently the information you need for your academic work. If you are a current UMM student, faculty, or staff member, you will find our online journals, databases and ebooks accessible here, enabling you to read and download articles, books and other sources from any computer, regardless of your location on or off campus.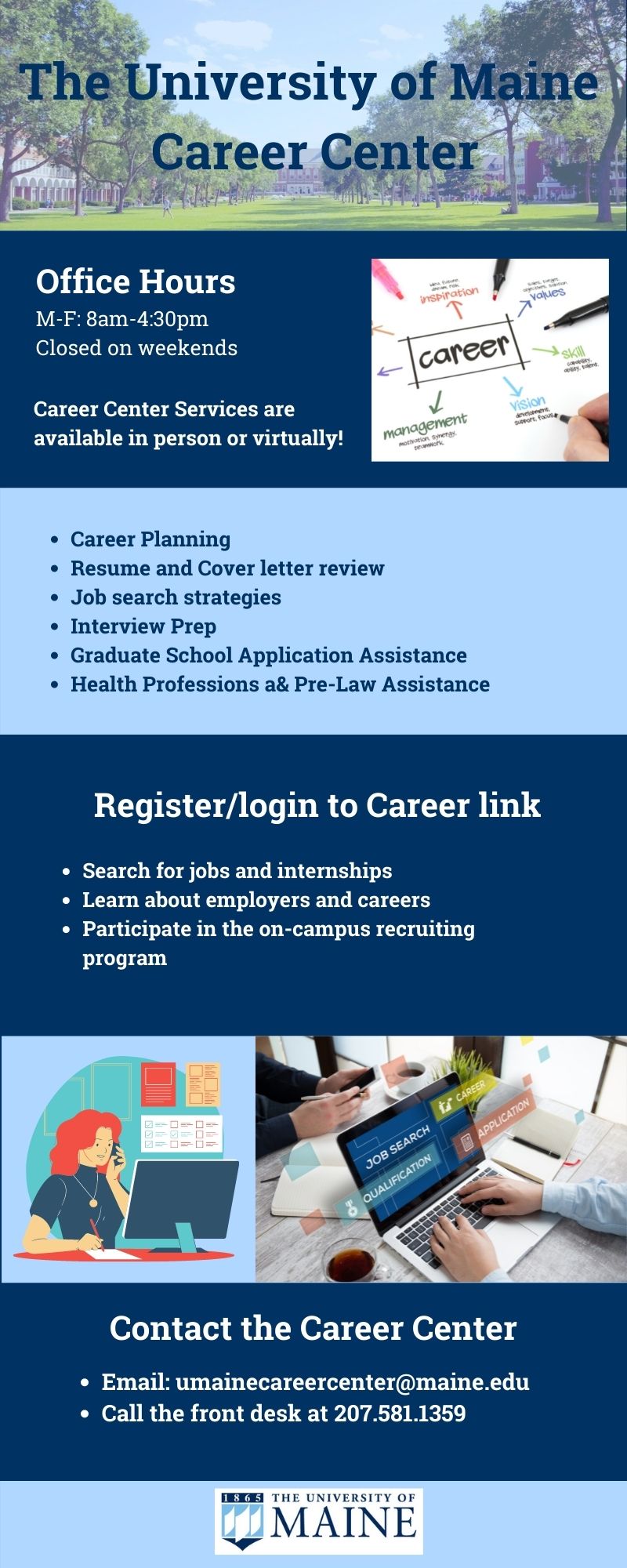 Career Center
The Career Center staff are excited to work with online learners on everything from resume and cover letter reviews, mock interviews, interview coaching, career/graduate school counseling and more! As a newly admitted student, you can register for CareerLink.  This is an employment database we offer to all of our students, that will provide information on career opportunities in all areas of the country.  It is never too early to see what is out there!

Tutoring
UMaine: The University of Maine Writing Center works with all students and faculty on any kind of composition at any point in the process. Our mission is to create a lasting and positive relationship between writers and their writing through peer-to-peer collaboration.
☸ UMaine Machias: The Center's mission is to create a home base for the UMM Student Tutor Program. Tutoring may be arranged by faculty for individual courses and may be available by request for courses without assigned tutors. There is no fee for tutor services. To request tutoring, email the Study Center Coordinator, Lori McBrine at lori.mcbrine@maine.edu or call 255-1232.
Log into NetTutor under your class in Brightspace for access to an online tutor. Chat privately with a tutor trained in the area in which you need help.
VAWLT (Virtual Academic Writing & Library Tutors), provides synchronous and asynchronous help for writing, research, and the technology you need to succeed in your courses.

Accessibility Services
The primary goal of the University of Maine and the ☸ UMaine Machias Student Accessibility Services is to create educational access for students with disabilities by providing or coordinating disability accommodations, giving information about the University and available resources to students and families and educating the campus community.  Some of the services provided or coordinated for students with disabilities include testing accommodations, note takers, ordering alternate format texts, classroom relocation, advisement on disability issues, and housing related accommodations.

Veteran's Education & Transition Services
UMaine:  The University of Maine's VETS Office serves student veterans as they apply to, attend and advance beyond UMaine. The Veterans Office connects student veterans with the resources they need to successfully transition from combat to classroom to career. This includes help navigating the admissions process, applying for financial aid and U.S. Department of Veterans Affairs education benefits, academic assistance and preparing to re-enter the workforce.
☸ UMaine Machias: The University of Maine at Machias Veterans' Services is a network of University services that work to connect student veterans with the resources they need to successfully transition from service to education to career. In conjunction with the offices of Veteran's Services and Vocational Rehabilitation located at the Machias CareerCenter, Servicemembers can find assistance with the process from application to finances and into the classroom and careers. 

Time Management
Learning to manage your time can be critical to your success as an online student. 
---

Return to Financial Resources
Finish online orientation by completing the post-orientation form by summarizing what you learned from this online orientation and letting the UMaineOnline advisors know if there is anything you had further questions about. We look forward to hearing from you!