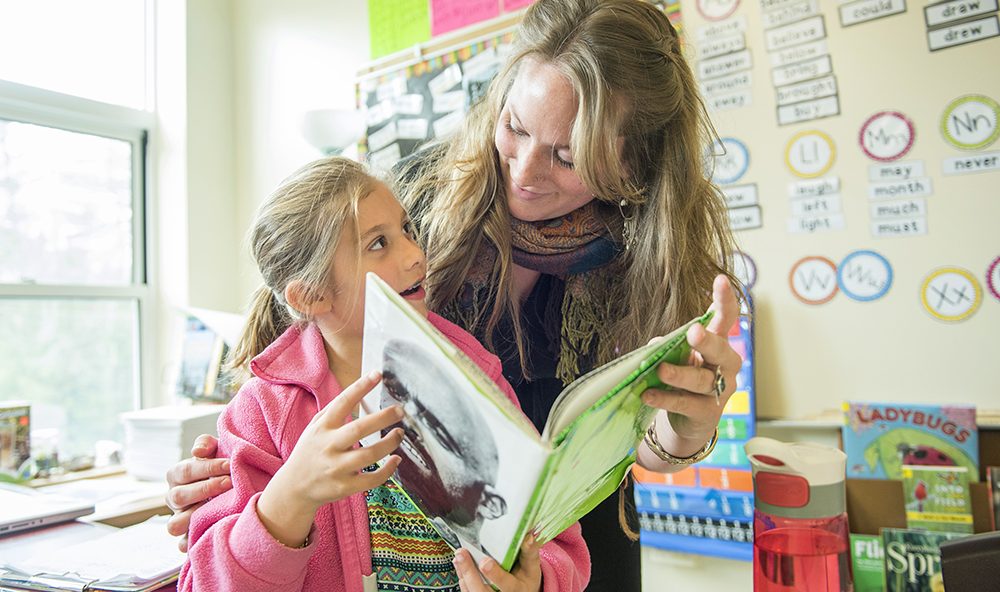 | | | | | |
| --- | --- | --- | --- | --- |
| Available 100% online | Credit Hours | Tuition | Application Deadline | Test Requirements |
| Yes | 36 credits | $439/cr. in-state and $549/cr. out-of-state | Rolling Admission | Passing scores on the Praxis Core Academic Skills for Educators Test and GRE/MAT  (GRE/MAT waived if undergraduate GPA is 3.0 or higher) |

Program Requirements (36 credits)

This 36-credit program provides a foundation in the field of early intervention/early childhood and preparation for leadership roles. The program leads to state certification as Teacher of Children with Disabilities (282, birth to school-age 5). The curriculum is designed to prepare students in the fundamentals of professional practice in early intervention for inclusive environments, provide students with advanced content in a variety of research areas (e.g., early childhood, early childhood special education, family relationships, collaborative consultation), and place students in practicum experiences with high needs children ages birth-5 and their families. Courses are delivered online.

The concentration is appropriate for students with a bachelor's degree in early childhood education or a related field who are currently working with, or have a desire to serve, high needs children with disabilities, ages birth to five, and their families.

Prerequisites

Grade of B or higher in CHF 450: Early Childhood Special Education or equivalent
Satisfactory performance on Praxis Core Academic Skills for Educators AND on MAT or GRE
Satisfactory undergraduate GPA (3.0 for regular admission)
Recommendations indicate potential for success as a graduate student and as early intervention specialist (academic background and positive dispositions)
Admissions essay demonstrates adequate writing skills, capacity for reflection, and commitment to the field of early intervention
Evidence of completion of fingerprinting and background check (Maine Dept. of Education)
Experience working in some capacity with young children with disabilities. Candidates without prior experience may be admitted, but they may be required to complete additional credit hours of field experience concurrent with course work.

Core Courses

EHD 510: Introduction to Educational Research
SED 505: Diversity of Development
SED 506: Assessment and Program Planning in Early Childhood
SED 517: Servings Infants and Toddlers in Natural Environments
SED 511: Planning Inclusive Early Childhood Programs
SED 514: Administration and Public Policy for EC
SED 516: Seminar and Practicum in Collaborative Consultation
SED 523: Home-based Practicum and Seminar in Early Intervention
SED 521: Center-Based Practicum and Seminar in Early Intervention
SED 532: Positive Behavior Support
Literacy Choice: SEI, EEL, or ERL

Capstone (3 credits)
SED 650: Graduate Project in Early Intervention
General Overview M.Ed. in Special Education – Concentration in Early Intervention
This program, which requires a minimum 36 credit hours, leads to state certification as a Teacher of Children with Disabilities (birth to school-age 5) (282). The program is designed to prepare students in the fundamentals of professional practice in early intervention for inclusive environments, provide students with advanced content in a variety of research areas (e.g., early childhood, early childhood special education, family relationships, collaborative consultation), and support students in practicum experiences with high needs children ages birth-5 and their families. In addition to the UMaine Graduate School application criteria, applicants will demonstrate satisfactory scores on the Praxis Core Academic Skills for Educators.  To ensure program success, applicants will be currently working or volunteering with young children, birth to age 5, and their families.
PROGRAM BENEFITS
Earn a nationally accredited degree from the University of Maine
Learn from experienced faculty who are leaders in the field
Practice collaborating effectively with co-teachers, family and other service providers
Experience multiple perspectives through case studies, simulations and reflective exercises
Complete your coursework anywhere through our innovative online format
A Master's degree in Special Education provides graduates with an understanding of the application of current evidence-based practices in K-12 classrooms for children with special needs.  Understanding a child's needs is essential to ensure that he/she receives the proper attention, assistance, and intervention to succeed in school. Our graduates apply their understanding of children's needs and best practices to address the needs of their students in inclusive general education learning environments.
Graduate programs are designed to enrich and extend theory, practice and leadership. The hallmark of graduate work in the College is mentoring-working closely with a faculty advisor whose goal is to ensure that a student's programs meets his/her unique needs. Small classes, led by widely recognized faculty, encourage debate, inquiry, and discussion based on real experiences and current issues. Flexibility is built into individual programs to allow the greatest impact in specific areas of need. This same commitment to individual growth and inquiry is ingrained in outreach and distance education.
For more information about this program, contact the program coordinator, Deborah L. Rooks-Ellis, Ph.D.
Education and Human Development Faculty

The Education and Human Development faculty at the University of Maine is committed to providing you with the finest educational resources, theories and practices available. For additional information on each faculty member, check out the link above.
Frequently Asked Questions
What can I do with an M.Ed. in Special Education – Concentration in Early Intervention?
The US Bureau of Labor Statistics (BLS) predicts that the employment of Special Education is projected to grow by 6% during 2012-2022. Demand will be driven by special needs increasing enrollment and the need for services. As screening capabilities increase, so does the need for the services provided by Special Education teachers in Early Intervention.
The program prepares graduates to work with infants, toddlers, preschool aged children and their families with a range of delays/disabilities.
Teachers in Special Education can also pursue employment opportunities in the private sector and as supervisors and administrators.
How do I obtain information about the Graduate Record Exam or Miller Analogies Test, and Praxis Core?
Applicants must take either the GRE (no advanced test required) or the MAT. As a faculty, we have no particular preference. However, arrangement to take the MAT can be made by contacting the Office of Student Records (207-581-1317) and normally can be made on relatively short notice, and the results are quickly available. Students who choose to enroll in a thesis program must take the GRE. You can register at the Educational Testing Service website. Information about Praxis Core is available on the Educational Testing Service website.
Does the M.Ed. program in Special Education require a thesis?
No.
What about certification?
Teacher certification is granted by the Maine Department of Education, not by the University of Maine. Students who successfully complete ALL the requirements of our nationally accredited, professional preparation programs (Teacher of Students with High Incidence Disabilities, Educational Specialist for Students with Low Incidence Disabilities) including documentation of passing scores on Praxis II in Special Education will be eligible for certification. Specific information regarding certification is available from the Maine Department of Education, Certification Services, State House Station 23, Augusta, ME 04333.
If I have taken graduate courses at another university, can they be transferred to my program at UMaine?
A maximum of 6 credit hours of previous graduate coursework from another institution can be transferred into the student's program at the time of admission, or a 12 credits from the University of Maine. In order to be transferred, courses must be approved by the Special Education faculty. Determination of transfer acceptability depends on factors such as how recently the course was taken and whether it is judged equivalent to an established course in the program. Decisions on transfer of courses are made during the application/interview process. Graduate courses taken as part of one's undergraduate program can not be transferred into the M.Ed. program.
How do I obtain a faculty advisor?
A Special Education faculty member is assigned to serve as a student's advisor during the final stages of the application process. The advisor's name will be included in the Graduate School's letter of acceptance to the student.
If you are ready to take the next step, this online admissions area can help you with the application process. To begin, follow our helpful application guide here. Most common questions are answered in this section, but please contact one of our graduate admissions professionals for additional guidance. When you're familiar with the process you can begin your online application to the University of Maine Graduate School!