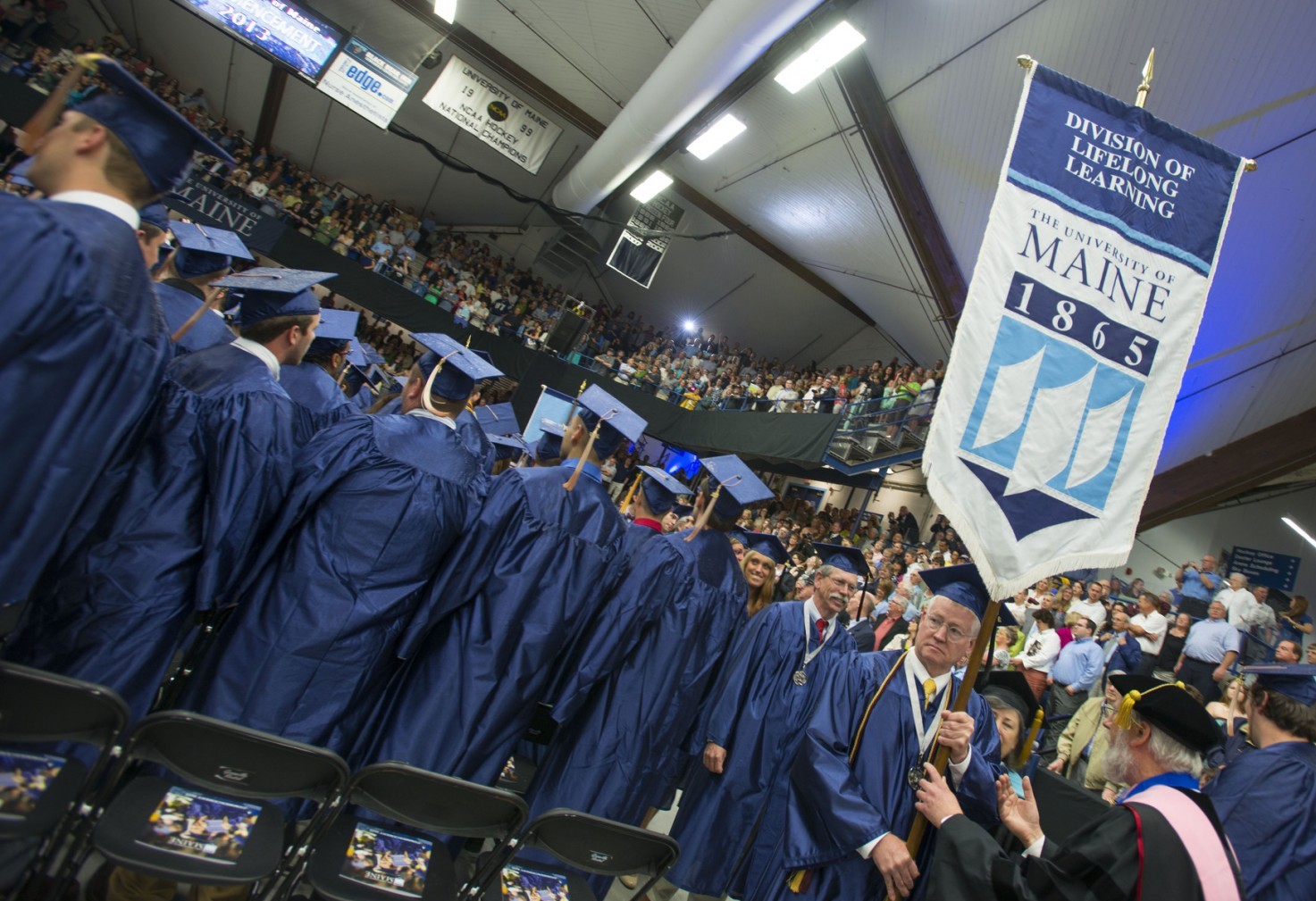 | | | | |
| --- | --- | --- | --- |
| Available 100% Online | Credit Hours | Tuition | Entry Terms |
| Yes | 120 credits | $293/cr. in-state and $366/cr. out-of-state | Fall/Spring/Summer |

Program Requirements

Required Courses (7 credits)

Additional Courses (minimum 24 credits)

In addition to the above required courses, students must select and complete the self-designed option or one of the following tracks:

Students must also complete the university's general education requirements, as well a all other UMaine graduation requirements.
General Overview Bachelor of University Studies (B.U.S)
The Bachelor of University Studies (B.U.S.) is UMaine's degree completion program for busy adults. Many adults who have some higher-education experience but no bachelor's degree find that life circumstances or interests make a traditional major and/or on-campus study difficult. Often family, job, and other responsibilities do not allow for full-time study. For these students, the B.U.S. program provides an excellent opportunity to develop a program of study that encompasses their interests and makes maximum use of their existing transfer credits. The program is also available in a part-time, online format to accommodate the needs of working adults.
The B.U.S. curriculum can be totally self-designed, or students may select one of three existing tracks (24 credit hours). The B.U.S. program offers the following track options:
Labor

Studies

Track
Leadership

Studies

Track
Maine

Studies

Track.
With its multiple track options, the B.U.S. program provides an opportunity both for students who would benefit from an individually-designed interdisciplinary program of study, as well as for students who would prefer a more prescribed curriculum.
In their first semester, B.U.S. students take a required (online) one credit course-UST 100: Introduction to University Studies-in which they have a chance to explore their goals, refresh their knowledge about essential resources and college success skills, explore the UM curriculum, and draft a proposed plan of study, either self-designed using existing UMaine courses of with one of the existing tracks listed above.
Students work with an advisor to articulate their goals  leading to specific educational outcomes that will work well with their current life circumstances.  Maintenance of a 2.0 GPA is required to remain in good standing as a degree candidate.  Students suspended from degree candidacy for failing to complete an approved plan (Self-Designed Track students) or falling below the required grade point average may be reinstated to degree candidacy after one semester upon approval of a plan and improved academic standing, as long as they meet all other requirements.
Visit the Bachelor of University Studies website to learn more about this exciting program!
APPLICATION INFORMATION


Applications and documents for fall 2018 are still being accepted through October 10th. 

Request to Reactivate Admissions Application (for students who had previously applied to UMaine within the last 2 years, but did not enroll)

University of Maine Online Application (for new applicants)

---

UMaine makes it easy to apply — on your terms. Apply online, mail a downloadable application, or use the Common Application.
*ALERT* University of Maine System's Adult Degree Completion Scholarship Deadline Approaching for Spring 2019
You may qualify if:
you are a Maine resident
an admitted degree student seeking your first bachelor's degree
returning to college after a recent gap of at least 3 years with a minimum of 30 previously earned credits toward your intended degree program
demonstrate financial need by filing the Federal FAFSA application www.fafsa.ed.gov
register for at least 6 credits, or two courses
The University of Maine System has established local "Navigators" to answer our adult students' questions, help them with the admissions process, assist with scholarships, and enrollment in classes. The ADC Scholarship can provide up to $4000 in an academic year to qualifying students.
Apply for the scholarship online by November 15 for spring 2019 term. Applications will continue to be accepted after the deadlines if funding remains available. For more information go to learn.maine.edu/adc/
What can I do with a B.U.S. degree?
The B.U.S. program prepares students for a number of opportunities and is intended to complement a student's interests and career goals. If completing a self-designed track, students are encouraged to design their program around predetermined interests. Some student's choose to complete independent studies (when appropriate) to further their knowledge in specific areas.
The Bachelor of University Studies offers career development and exploration through UST 100: Introduction to the Bachelor of University Studies. UST 100 is one of the first classes in which new students enroll.  Not only do students complete a career aptitude survey, but they also use UMaine's Mentor program which is a group of UMaine alums who will discuss their jobs and work-related questions with individual students. Students in UST 100 interview a mentor from a selected field of interest to gain additional knowledge of their intended career choice.
Occupations of B.U.S. graduates include:
attorneys
business owners
college professors
clergy
counselors
government employees
journalists
military personnel
professional athletes
public safety.
Many students build their programs of study around their intended career, thus extending and creating skill sets that are useful in employment.
Our advising center can answer all of your questions about earning a degree or certificate through UMaineOnline.

Call us at 207.581.5858 or email us at umaineonline@maine.edu.

We look forward to speaking with you!
What faculty have to say about B.U.S. students

Students in the Bachelor of University Studies program bring to their studies a wonderful wealth of knowledge growing out of their broad range of experiences as Adult Learners.  Their deep roots in Maine communities not only brings richly diverse perspectives to all University discussions, but also grounds us firmly in our mission to the state.  Every project the University Studies students have worked on with me has contributed to the state's knowledge base, in photographic, written, and video documentaries of our historical foundations, current social conditions, and impressively varied, culturally rich environments, serving us all and generations to come.

-Dr. Michael Grillo
What students have to say about the Bachelor of University Studies
"As a military veteran, a family man and business leader – UMaine's Bachelor of University Studies program, with its flexible schedule & online curriculum, has been essential to my continued educational success. This program opens up real possibilities for so many "non-traditional" students to further their education and open the door to new possibilities to better their lives. The friendly and supportive program staff are there to help you succeed. The curriculum is thought provoking and engaging." – Chad Caron
"The start of a college experience can be daunting for anyone; however, for the non-traditional student who probably has not studied for years, it can be downright frightening!  Not only do we worry about academic success, but we also wonder how we will fit in with all of the traditional students and how we will balance school needs with our home lives. Fortunately, UMaine has the Division of Lifelong Learning and the Bachelor of University Studies to aid all non-traditional students.

Each time I have had any interactions with the members of this department, I have been met with warm smiles and courteous assistance. Any time I questioned what my next academic steps should be, my advisor was available to help me sort through my options. Without the guidance that was provided, my path would have been much rockier and I probably would have stumbled more often. Instead, I found the transition into college life very satisfying. I have been willing to jump into new experiences because I knew my department would be there to cheer me on. I am extremely grateful for all of the support my program and the caring people within it have consistently offered. Because of the people and the program, the ability to succeed is much greater!"
– Kathy Hill
How will your story go?