Graduate Certificate in Digital Curation
Graduate Certificate in Digital Curation
What is Digital Curation?
To study digital curation is to learn how to acquire, organize, present, and preserve information and culture in the age of new media and the Internet. Whether you work in an archive, museum, library, studio, business, doctor's office, or government office, you'll learn how to collect, make accessible via database and website, and preserve digital assets ranging from videotapes to photographs to textual records.
Who needs Digital Curation?
An archivist in a photographer's studio wants to put a database of vintage sailing photos online but doesn't know where to start.
A town official is feeling pressure to keep digital records but isn't sure what formats will be accessible in the long term.
A curator in a museum is worried that recordings of stories will be lost once the audio cassettes are no longer playable.
A healthcare administrator needs to sort through data on drug effectiveness to make policy decisions for his hospital.
A researcher needs to prepare a data management plan to comply with requirements for a National Science Foundation grant.
A grad student wants to leverage historical records to create an interactive online map of the Battle of Gettysburg.
In this age of constantly changing hardware and software, anyone who manages digital files, or has contemplated digitizing an analog collection, can benefit from the University of Maine's Digital Curation online program.
For more information, visit the Digital Curation website.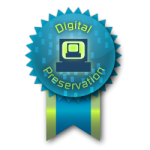 Innovative Teaching Tools
Although taught entirely online, all classes in the program make use of interactive online resources to teach hands-on skills along with broader knowledge about the field. The EAB report highlights the University of Maine's "free online tutorials that foster individualized learning" to help accommodate "students' varying levels of technological knowledge."
UMaine is also one of the only programs to furnish out-of-state students with tuition comparable to that for in-state students.
---
Students' Experience Earning Their Digital Curation Certificate Online
---
Curriculum
12 credits required
Core Courses
Acquisition – digitization, recording, selection, law
DIG 500: Introduction to Digital Curation (3 credits)
Representation – documentation, metadata
DIG 510: Metadata (3 credits)
Access – database, collection, presentation, network
DIG 540: Digital Collections and Exhibitions (3 credits)
Preservation – obsolescence, conservation, media formats
DIG 550: Digital Preservation (3 credits)
Internship (optional) – fieldwork, placement, community
DIG 580: Digital Curation Internship
Electives (optional)
Choose one (3 credits):
COS 430: Introduction to Cybersecurity (3 credits)
EDT 520: Digital Age Teaching and Learning Methods (3 credits)
EDT 545: Information Security in the Educational Environment (3 credits)
EDT 550: Video Communications in the 21st Century (3 credits)
EDT 560: Applying Technology to Assessment in Education (3 credits)
EDT 598: Advanced Instructional Design (3 credits)
EDT 598: Designing Networks to Optimize Learning (3 credits)
EDT 598: Technology Supported Inquiry-Based Teaching and Learning (3 credits)
HTY 597: Field Work in Historical Institutions (3 credits)
INT 598: Pop! Tech: The Impact of Technology on Society (3 credits)
MSE 497: Independent Study in Museum Studies/Museum Education (1-3 credits)
NMD 597: Independent Study in New Media (3 credits)
SIE 525: Information Systems Law (3 credits)
SIE 558: Real-time Sensor Data Streams (3 credits)
SIE 590: Information Systems Internship (3 credits)
---
Admissions
Application Materials
Applicants should email jippolito@maine.edu a 3-5 paragraph statement describing the digital curation challenges you have encountered in your past or future life/work, and how you think our program might help you overcome those challenges.
Certificate applicants will also need to request a transcript from your undergraduate or graduate school. Though many of our students will have a Masters degree, only a BA is required.
When you are ready to apply, please first review these application instructions. You can then register for a single class or as part of the Graduate Certificate by following the instructions in this easy online application.
For more information about admissions, contact:
Jon Ippolito, Professor New Media Department
406 Chadbourne Hall | Orono, ME 04469-5713
207.581.4477 |  jippolito@maine.edu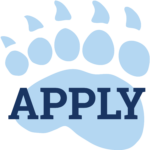 Contact Us
Have questions about earning your Graduate Certificate in Digital Curation online with UMaine? Contact Dagmar Moravec, Director of Online Student Services, at 207.581.5858 or at umaineonline@maine.edu.
---
Careers
As they adapt to the digital era, more and more organizations are realizing they need employees with digital curation skills to manage their workflows. According to a recent report from the Education Advisory Board, US employer demand for digital curation professionals grew 60% from 2010 to 2013. The same study found 42% of digital curation jobs advertise salaries offer higher than $75,000, while 80% advertise salaries above $50,000. The fastest-growing sectors for digital curation jobs include education, science, and healthcare.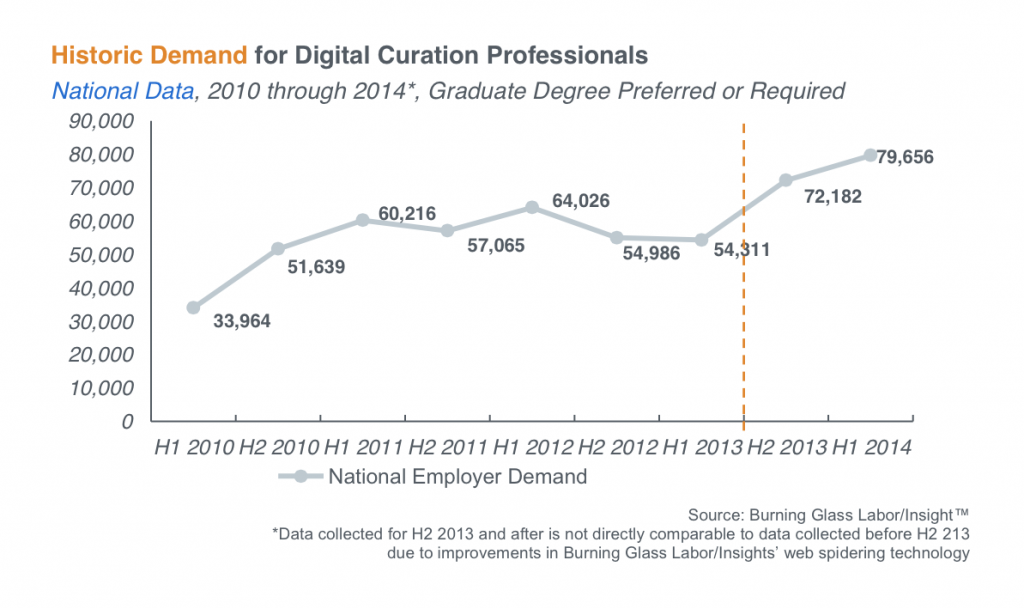 —2014 Educational Advisory Board report on "Market Demand for Digital Curation Master's Degree Programs."
---
Faculty
The program draws from faculty expertise in a range of disciplines, including new media, history, art history, computer science, and library science. UMaine's Digital Curation faculty are renowned in the field for groundbreaking research and publications, including the first academic book on digital preservation, and have earned grants from the NEH, NEA, and other funders for their cutting-edge research in the field. The curriculum's wide-spectrum approach to the subject of collection management in the digital age may be especially appealing to small-scale institutions, whose staff is often required to offer both cultural and technical support. The following UMaine faculty members are contributors to the Digital Curation program:
---