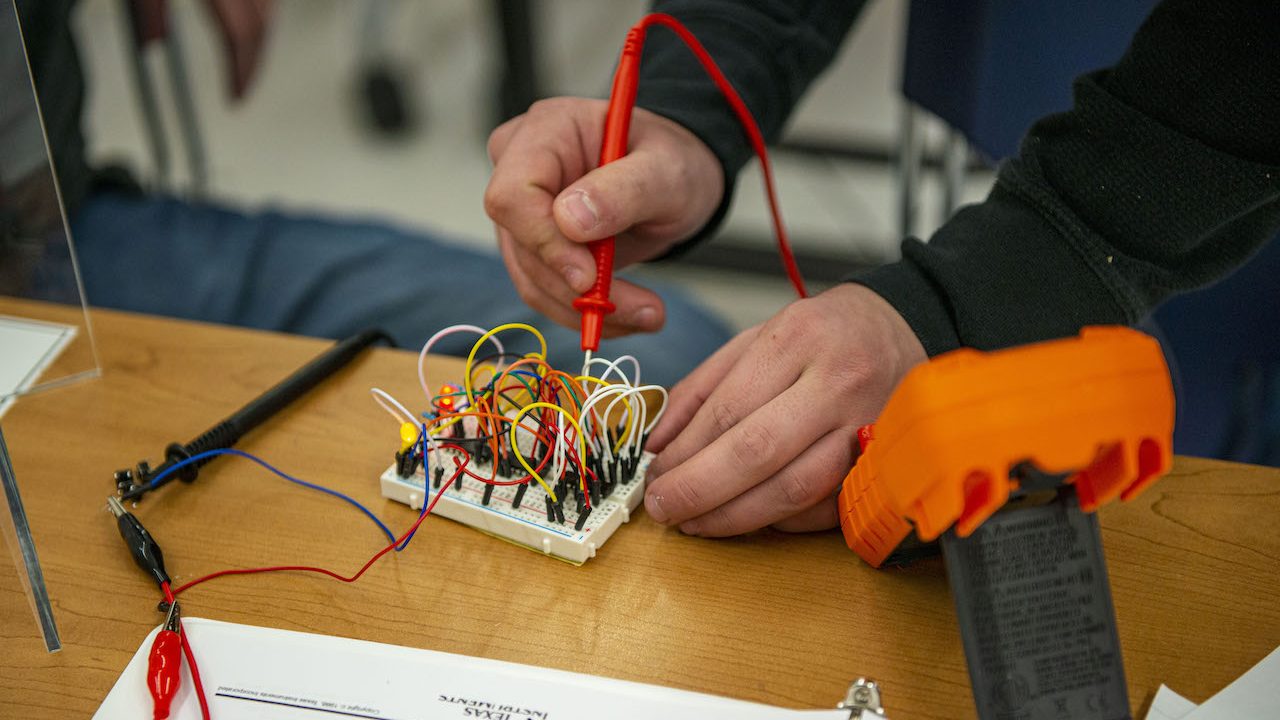 Online Graduate Certificate in Electrical Engineering Technology
Online Graduate Certificate in Electrical Engineering Technology
The 100% online Graduate Certificate in Electrical Engineering Technology enhances the technical and management knowledge of experienced professionals working in today's industry. Students will learn:
Applied circuit design applications through printed circuit board design, manufacturing, and assembly
Applied software techniques through automation and integration applications
Grid integration techniques and renewable energy applications
This certificate can also be used for continuing education credits or serve as a pathway to an M.S. in Engineering Technology or a Professional Science Masters (PSM) in Engineering and Business.
All courses are online and flexible so working professionals can continue their education anywhere at any time without impacting their ability to work.
To learn more about the Electrical Engineering Technology program, visit umaine.edu/eet.
---
Curriculum
Our curriculum is designed for students to gain advanced technical knowledge through real-world, practical applications. The elective options allow students to develop specialized skills in industry and/or engineering project management.
At least three of the completed courses (9 credits) must be at 500-level or above. The certificate should be completed within 6 years from the date of acceptance into the program. The lowest acceptable grade of C is permitted in a maximum of one course.
Required Courses
The following courses are required (9 credits):
EET 514: Printed Circuit Board Design (3 credits)
EET 515: Automation and Integration (3 credits)
EET 560: Renewable Energy and Electricity Production (3 credits)
Electives
Choose two electives (6-7 credits) from the following:
EET 422: Power Systems Analysis (4 credits)
EET 423: Protective Relay Applications (3 credits)
EET 584: Engineering Economics (3 credits)
ENM 586: Advanced Project Management (3 credits)
---
Admissions
We have rolling admissions so you can apply and be accepted into the program at any time. Choose from three start times per year: Fall, Spring, or Summer.
Transfer Credits
The Electrical Engineering Technology Graduate Certificate does not accept transfer credit per the rules of the University of Maine Graduate School.
Requirements
A bachelor's degree from an accredited program in a technical field such as engineering, computer science, math, or physics
A minimum undergraduate GPA of a 2.5 on a 4.0 scale
Substantial exposure to circuit analysis is preferred but not required
A minimum TOEFL score of 80 (IbT), 6.5 (IELTS), or 60 (PTE Academic) for international students
Application Materials
The admission evaluation process begins once we've received all your application materials. Before you apply, please review the application instructions. When you're ready to apply, please submit the following:
Current resume or CV
Official academic transcripts
Contact Us
Have questions about earning your Graduate Certificate in Electrical Engineering Technology online with UMaine? Contact Todd Cooley, UMaineOnline Advisor, at 207.581.3072 or at todd.cooley@maine.edu.
---
Careers
The EET faculty have built a strong network of contacts to help graduates find employment and our faculty works personally with students to help them find positions that fit their interests. Our graduates find careers such as project engineers, electrical and instrumentation engineers, equipment engineers, field engineers, power systems engineers, or electronic applications engineers. Over the last several years, we have had an almost 100% placement rate within three months of graduation.
According to the U.S. Bureau of Labor Statistics, the overall employment of electrical and electronics engineers is projected to grow 7% from 2020 to 2030, about as fast as the average for all occupations. As of May 2020, the median average wage for electrical engineers is $100,830 and starting salaries can range from $60,000 to $70,000.
---
Faculty
All of our faculty are licensed professional engineers with several years of industrial experience and actively serve as consulting professional engineers when not teaching.
We are dedicated to helping students succeed and offer exceptional access to faculty. While some institutions may only have 1-2 hours available for students to see faculty, we average 10-15 hours weekly.
Learn more about the electrical engineering technology faculty at umaine.edu/eet/faculty.
---