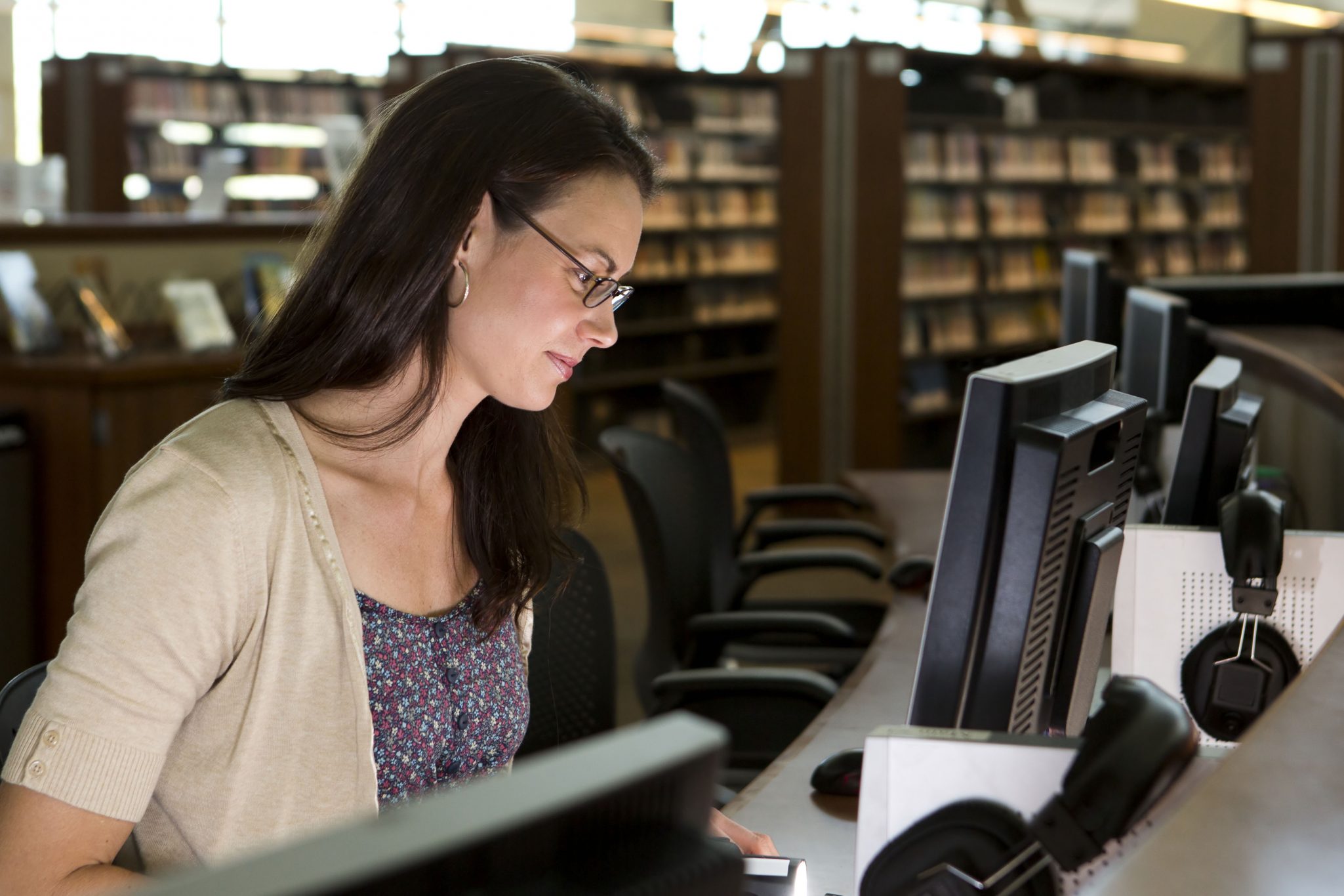 Program and Course Schedule
Students may begin coursework in June, September, and January each year.
EDT Course Descriptions
EDT 515: Dynamic PK-12 Library Management
The course covers principles and processes underlying the successful administration of a school library including management, program development, and evaluation of contemporary school libraries. The course explores the changing roles and responsibilities of an effective and proactive school librarian. This course will explore the role of educational technology in the effective management of the PK-12 library. This course meets the requirements and equivalency of a Library Science Course.
Prerequisites: EDT 520 or permission of the instructor
Credits: 3
EDT 516 : Reference and Research for Digital Age Teaching, Learning and Libraries
The modern library is a rich hub of information sources, and librarians need excellent skills to promote inquiry, inclusiveness, and collaboration with students and educators. This course will provide an overview of the field of reference and research instruction in order to prepare graduate students to work with students in grades PK-12. Graduate students will critically evaluate the most important print and electronic resources, and understand the vital role of digital curation. Graduate students will be trained in the art and science of the reference interview, bibliographic instruction, and readers' advisory. In addition, students will practice their leadership skills with reference and research as they seek to promote the library as a learning commons, and information literacy as essential to teaching and learning in the digital age. This course meets the requirements and equivalency of a Library Science Course.
Prerequisites: EDT 515 or permission
Credits: 3
EDT 520: Digital Age Teaching and Learning Methods
In this foundational course, students will explore how digital tools allow for new models of teaching and learning in diverse learning environments such as the traditional classroom setting, libraries, coaching models, and industry training. Students will engage in a critical review of how technology has been used, and explore current trends in educational settings. Students will discuss relevant theories of cognition, explore issues of access and equity, and consider how curriculum, instruction, and assessment might be designed with the support of technology. The learning environment for the course will model different engagement, instructional, and assessment strategies including readings, multiple modes of discussion and reflection, practical applications, design projects, and social networks. This course meets the requirements and equivalency of a Library Science Course.
Prerequisites: None
Credits: 3
EDT 528: Designing Technology Systems to Optimize Learning
In order to create and support sustainable, effective, and integrated technology systems, leaders must be well versed in technical systems design, planning, and evaluation processes. This course is designed for students who seek to be leaders in approaching these technical concepts through a vision of aligning solutions and systems that are consistent with a learner-centered perspective on educational practices. Students will learn strategies to engage stakeholders, develop budgets, and plan for evaluation of technology investments.
Prerequisites: EDT 520 or permission of instructor
Credits: 3
EDT 531: Studio in Computing for Learning
Maker spaces have proliferated in our schools, libraries, and elsewhere in our communities. Similarly, toys and kits for children now include programming, circuits, single-board computers, sensor kits, robotics, drones, and more. This course serves as an introduction to computational thinking and computer science as both a delivery mechanism and a 21st-century skill within all contexts of educational practice including classrooms, libraries, and additional diverse learning environments. This course will help students develop approaches and strategies for utilizing what has become consumer-level electronic and computational tools in problem- and project-based learning scenarios. Students will learn to help others engage with technology in the learning process as creators. In so doing, they will heighten their awareness of programming and the capacities of computer hardware. This course meets the requirements and equivalency of a Library Science Course.
Prerequisites: EDT 520 and matriculation in M.Ed. in IT, Ed.S., or Instructional Technology Graduate Certificate Programs; or instructor permission
Credits: 3
EDT 532: Creative and Connected Learning Environments
100% online with potential for some synchronous meetings
This course is designed for K-12 educators who are ready to move from learner engagement to learner empowerment.  Participants will understand the vital role that creativity plays in problem-solving, collaboration, and learning.  The course will provide foundational knowledge on strategies to teach and assess creativity across content areas. Participants will work in-depth with the ISTE Standards for Students and plan new learning experiences that focus on the benefits of creativity and using digital tools to connect beyond the traditional boundaries of classroom walls.
Prerequisites: None
Credits: 3
EDT 537: Introduction to Flipped, Blended, and Online Learning
Advancements in technology have led to exponential growth in opportunities for innovative education for all learners. Participants will explore what it means to create a flipped, blended, or online learning environment. These philosophies and strategies can be applied in K-12 classrooms, higher education contexts, and workplace settings. Participants will consider how format, technologies, and modalities may impact the learner and learning community. Participants will explore the historical context of adopting technologies to enhance and expand learning opportunities, and how best practices are determined. Participants will conduct research on various aspects of flipped, blended, and online learning and be actively engaged in the application of effective methods for designing and delivering learning experiences online.
Prerequisites: None
Credits: 3
EDT 540: Instructional Design and Project Management
In this hands-on, project-based course, students will design and develop an authentic technology-based learning experience based on sound instructional design principles. Students will present several iterations of their designs to the class, participate in peer critiques, and continually improve their projects over the semester. As instructional designers work in a team, each student contributes to and benefits from consulting with peers. They use their skills to help others and improve their own projects. Students will also explore additional instructional design frameworks and learning theories to improve fluency and flexible thinking while managing instructional design projects. This is a class that embraces creativity, active learning, social learning, and design thinking.
Prerequisites: None
Credits: 3
EDT 541: Advanced Instructional Design
This advanced course extends students' knowledge of the theory and practice of instructional design as well as introduces students to the practice of research in instructional design. Students will design original 2D and 3D models of physical spaces as well as plan types of instruction and learning that their designs would facilitate. Students will also work with technology-mediated approaches to instruction and plan curricula that help students master content and skills appropriate for the 21st Century information culture. Throughout, students will critically assess the efficacy of their own and each other's designs to meet learning objectives. The course will have synchronous and asynchronous elements. Students will also work independently as well as in small groups on projects.
Prerequisites: EDT 540 or permission of instructor
Credits: 3
EDT 542: Supporting Technology Integration through Professional Development and Coaching
Mentoring, coaching, and collaboration are all parts of a helpful and supportive approach to improving instructional practices. According to Carr, Herman & Harris (2005), "When these interactions are embedded in school culture, a new synergy evolves and a shift occurs- a shift to the forward momentum of collaborative school improvement" (p.11). In this course, learners will integrate theories and models of professional development to create plans and activities that are aligned to the needs of their community as well as professional teaching standards. Learners will apply best practices in professional development design, incorporating the elements of teacher evaluation models, adult learning theory, professional learning communities, and instructional coaching.
Prerequisites: EDT 520 or 540
Credits: 3
EDT 543: Practicum in Instructional Design
This capstone course is designed to allow participants to focus on instructional design to engage in the full life-cycle of such a design project. The work will include analysis, design, development, implementation, and evaluation to create an original instructional project. Participants will work in one or more of the principle program domains: Learning Environments, Teaching/Learning Strategies & Assessments, Digital Citizenship, Professional Practice, and Leadership. Students will work collaboratively with peers, field experts, and faculty members. As appropriate for the content and approach of projects, mentors and/or the practicum supervisor may recommend a research review for areas ranging from pedagogical approach, appropriateness for settings, and technical feasibility. Student teams will present their projects at the end of the term.
Prerequisites: Permission of instructor
Credits: 3
EDT 545: Legal, Ethical and Security Issues in Educational Technology
This course is designed to give educators, and emerging technology leaders a foundation with the following domains of digital citizenship: law, risks and responsibilities, and security. Students will engage in readings on existing frameworks, conduct an analysis of policies, review case studies to learn more about the importance of legal, social and ethical concerns of standards and policy development in the classrooms of today and tomorrow. In addition, students will plan for collaboration with stakeholders in their organization to work towards legal, secure, safe, and ethical implementation of educational technology.
Prerequisites: EDT 520 or permission of instructor
Credits: 3
EDT 559: Organizational Leadership for Educational Technology
Technology is reshaping how organizations work and how learning takes place. Individuals with expertise in instructional technology are relied upon to take leadership positions with technology use, planning, and evaluation. However, these individuals seldom have expertise in how to be leaders and agents for change at the organizational level. Every situation is different, but knowing the right questions to ask can mean the difference between effective leadership and frustration. This course examines such challenges in the context of technology leadership for a variety of instructional settings.
Prerequisites: 9 credits of EDT coursework or permission of instructor
Credits: 3
EDT 560: Assessment in the 21st Century Classroom
Students will first explore the traditional vocabulary used for assessment and learning. Students will then evaluate, discuss, reflect upon, and consider the implications of integrating technology and digital assessment tools in the pk12 classroom to support knowledge acquisition and creation of new knowledge. Students will look through a variety of lenses for students' understanding and assessment including ISTE, SAMR, and Bloom's among others.
Prerequisites: EDT 520 or permission of instructor
Credits: 3
EDT 561: Technology-Supported Inquiry-Based Teaching and Learning
This course examines the role of technology in active, inquiry-based teaching and learning in diverse learning environments such as the traditional classroom setting, libraries, coaching models, and industry training. Participants will explore self-directed questions and problems engaging in inquiry-based instructional methods supported by technology resources and tools. An integral component of this course will be the development of an inquiry-based facilitation plan that fosters and promotes active student questioning, critical thinking, and complex problem solving for implementation in classroom and library environments. Emphasis is placed on student-centeredness, constructivist learning theories, and problem-based teaching and learning approaches. This course meets the requirements and equivalency of a Library Science Course.
Prerequisites: None
Credits: 3
EDT 562: Technology for Young Learners
This course is designed to provide students with the ability to integrate developmentally appropriate technology into the early childhood classroom, birth to age eight. Students will gain the skills to apply technology-mediated family engagement strategies. Emphasis will be placed on how computer technologies, mobile devices, and Internet resources can enhance play-based pedagogy learning. This course develops students understanding in evaluating and integrating technology into curriculum, instruction, and assessment in order to create learning environments that address the needs of the diverse young learners.
Prerequisites: EDT 520 or permission of instructor
Credits: 3
EDT 563 : Future Ready: Embedding Design Thinking in The Learning Process
As modern education grows complex, educators need strategies to inspire authentic learning experiences, to motivate colleagues and students, and to spark innovative solutions.  Empathy fueled, human-centered problem solving — design thinking — provides the mindset and framework for developing innovations at any scale and managing project-based learning in any environment. This course provides a critical investigation into the principles of design thinking and how to apply them to your professional life. Participants will engage in iterative cycles of a design process and explore how both high- and low technologies can support the outcomes of design thinking.
Prerequisites: None
Credits: 3
EDT 570: Leveraging Crowd-Based Knowledge in K-12 Classrooms
This course is an inquiry into crowd-based knowledge and the affordances and challenges of such knowledge for K-12 teachers. We will consider different interfaces (e.g., wiki, question and answer, discussion forum) that manage interactions between large groups of users and examine questions of reliability, access, and participation. The course will be project and discussion-oriented.
Prerequisites: None
Credits: 3
EDT 571: Methods of Teaching Inclusive Computational Thinking
Computational thinking is a problem-solving process that draws on the principles and practices central to computing education. This course provides a foundation in the big ideas in computational thinking – abstraction, data and information, algorithms, and programming – and the application of these practices to domain-based contexts in educational environments. Participants will explore pedagogical approaches to promoting computational thinking with a focus on including those groups who are historically underrepresented in the field. Students will use a range of curriculum standards to plan, design instruction, and use assessment strategies that integrate computational thinking competencies.
Credits: 3
Prerequisites: None
EDT 572 : Teaching Programming in Multiple Paradigms
The audience for computer science education is larger and more diverse than ever, but educators are often tasked with teaching the subject without any formal exposure to the fundamentals of programming, particularly as it relates to their students. Embracing the wide variety of needs and abilities of different age groups, this course is an introduction to different coding paradigms and some of the programming languages that are appropriate for all levels of K12 and beyond. These paradigms include but are not limited to block-based, imperative, and object-oriented, and students will use different development environments to explore different application domains. There will be an emphasis on computational problem solving and the key aspects of algorithm development. Students will create unit progressions that allow their learners to work collaboratively and inclusively.
Prerequisites: EDT 571 or permission
Credits: 3
EDT 580: Educational Technology Summer Institute
This course is for educators seeking to enhance their knowledge and skills by using educational technology to support teaching and learning. Students will engage in online study, and complete an in-person residency. The course will include strands to allow for a focused study of literature, research, and practices with regards to educational technology. Students will participate in both individual and collaborative projects. The focus will be pedagogically driven practices for technology in virtual, blended, and in-person environments. The course is designed for a wide variety of educators and educational technology skill levels. Learn more at umaine.edu/edtech207.
Prerequisites: None
Credits: 3
EDT 598: Special Topics
Concentrated study of designated topics in instructional technology. Topics may vary depending on faculty and student interest. May be repeated for credit. Some sections may have prerequisites beyond the following:
Prerequisites: Graduate standing or permission of instructor
Credits: 3
EDT 616 : New Directions for Educational Technology
This is a discussion and project-based seminar that explores how emerging technologies create new opportunities for learning and teaching. How do emerging technologies become instructional technologies that can aid learning and teaching, broadly defined? This course will explore the history of emerging technologies in education, from the advent of radio in the 1920s to the emergence of the world wide web, and use that history to examine the frontier of instructional technology. We will assess trends in displaying, representing, and interacting with information, and imagine how emerging technologies will create new opportunities for learning and teaching.
Prerequisites: EDT 520 or permission
Credits: 3
EDT 657: Educational Practicum
This course is an alternative capstone experience for students in the Instructional Technology master's degree who choose not to seek the Maine Department of Education 680 endorsement prior to graduation. Students will develop and implement an approved project to include the following components: research review; application of research to practice; reflection; and presentation.
Prerequisites: Approval of Practicum Supervisor
Credits: 3
EHD 510: Introduction to Educational Research
For graduate students in education and related fields. Topics include: locating educational research reports, abstracting and evaluating sources, understanding statistical symbols, examining inquiry methodology and communicating about research. Designed for consumers of research.
Prerequisites: Permission of instructor
Credits: 3
Technology for All Learners Options
SED 564: Universal Design for Learning in PreK-12 Classrooms (UMaine)
This course will acquaint PreK-12 educators with principles, theories, research, and policies related to Universal Design for Learning (UDL). The course will examine the historical roots and policies related to UDL, neuropsychological and sociological theories driving UDL, core components of UDL, application of UDL within various content areas (e.g., reading, mathematics, social studies, science), and systems issues related to meeting the diverse needs of students.
Prerequisites: Permission of instructor
Credits: 3
SED 505: Universal Design for Learning and Curriculum Access (UMF)
This course introduces students to the concept of universal design for learning (UDL) and instructional technologies that provide educators with effective ways to create flexible methods, materials, and assessments to reach diverse learners. A focus will be on how to support students with a range of abilities to access the general education curriculum across content areas.
Prerequisites: Graduate standing
Credits: 3
SED 519: Assistive Technology (UMF)
This course introduces students to assistive technology (AT). Course participants will investigate the use of assistive technology devices and services for individuals with disabilities. A range of technology will be examined from "low tech" devices that are inexpensive or easily modified to "high tech" devices that are expensive. Evaluation approaches, determination of appropriate uses of assistive technology, and funding will be explored. Methods and strategies for implementing assistive technology with students who require varying levels of support across settings and ages will be a primary focus.
Prerequisites: Graduate standing
Credits: 3
SED 687: Technology for Learning and Communicating (USM)
This course introduces students to the use of technology, including assistive technology, with all students, including those individuals with special learning and communication needs. A range of technologies will be examined from "low tech" devices such as simple switches to computers, adaptive devices, and software appropriate for individuals with disabilities. A variety of equipment, materials, software, and hardware will be available for student use.
Prerequisites: Graduate standing
Credits: 3
Other Electives
With permission, students may take electives in programs such as Information Systems, Intermedia, Educational Leadership, Adult and Higher Education, or other fields relevant to professional goals. Speak with an advisor regarding goals and options. Please note that courses in other programs may use different delivery modalities than courses within the EDT program.